Welcome to the 50th! Issue of the Brave YES Biz Playbook, a weekly newsletter by me, Shawn Fink, with musings on courage, business strategy and having the capacity to play bigger and live your best life. I am SO glad you are here. You may want to allow for images to show up in this edition for a better reading experience.
🦚🦚 Registrations are underway for my brand new Brave YES Power Squad, a 12-week group coaching program for entrepreneurs and creators who want to release fear and self-doubt and start playing bigger to grow, uplevel or pivot your business. Learn more here. 🦚🦚
Please check out my guest appearance on Your Autonomous Creator Podcast this week! Jess and I get into the importance of business math and doing what it takes to reach your business goals. I talk about the importance of having that weekly financial check-in I've talked about before. And Jess talks about the REAL numbers you need to consider. And, as it turns out, business math is FUN! How to handle your creative business finances—even if you're "not a math person," with Shawn Fink​
​
Your Brave YES Playbook ...
​
Over the past year or so, I've been running a bit of an experiment about leaning into discomfort.
In full honesty, before that, I was 100 percent someone who would run the other way.
If I was involved in a project that made me feel uncomfortable — not in a toxic way but in a THIS IS HARD or NOT GOING MY WAY way, I would cut and run. A committee. A board. A social group.
Cut and run from discomfort or hard things was definitely one of my fear patterns. I had this belief that everything should feel easy and aligned and that if it wasn't, it was a sign it wasn't for me.
If it started to feel hard, I was ready to moe back into my comfort zone under the lens of it being out of alignment or not good for me.
I did this year for years. I can list the number of things I didn't give a chance, situations I didn't let unfold long enough to see them through.
And isn't this the problem with everything these days? We want to quit or cancel rather than stay long enough to smooth things out.
But sometimes -- maybe more than I want to admit -- it's up to ME (US) to do the work to make it aligned and that's how we change culture systems rather than let them fester in dysfunction and corruption.
Yes, I'm talking about politics, your marriage, that dream you need to resuscitate because it's so big and wild it will create a ripple of goodness, your creativity.
And, of course, your business.
Choosing the lean into discomfort -- true discomfort -- and do the things like sharing yourself and your work in the world is what singlehandedly helps you grow your business.
When I began to face my own fear pattern around avoiding discomfort, I felt ready to see and own my part in not seeing things through. I knew I needed to start to lean in to the hard, lean into the imperfect, lean into the resistance.
And, it turns out, it's exactly what leads to sales and revenue in my business but not just that ... it leads to my own confidence and courage to handle more and more hard things.
I've unlearned that comfort is where I need to always be.
And I've learned that being comfortable with discomfort can actually be fun and great for my creativity.
In order to develop courage and confidence in business — and your role as a sovereign leader of your business — you're going to want to cultivate resilience to handle the hard stuff, a Brave YES Mindset to say yes before you are ready and reclaim your power so you are always, always staying in your JOY zone.
This is exactly the kind of self-leadership and self-sovereignty YOU will develop inside my brand new group coaching program, The Brave YES Power Squad. Through all three modules you'll be cultivating your own inner power, your ability to say YES to what feels good AND what will grow or uplevel your business.
Here's a little glimpse into how we will do this through 12 weeks of lessons, masterclasses and specialized 30-Day practices inside the Power Squad -- OR, how you can absolutely do it on your own:
BRAVE YES MINDSET MASTERY
Embracing a Brave YES Mindset & Making Decisions based on Possibility Not Fear.

Learn Grounded Courage Strategies for Coping through Discomfort

Experiment with a variety of Brave YES Power Moves that shift your energy AND your power.
RISE, LEAD, FLOURISH AS A SOVEREIGN FOUNDER
Tune in and Fine Tune Your Inner CEO and Sovereign Self with self-leadership skills to grow your authority
Set BOLD boundaries and Intentions around who you want to be and the business you want and create the Brave YES Blueprint to make it happen.
Cultivate Radical Self-Worth to Elevate Your Confidence so you can sell your services and offers with ease and joy.
STEP INTO YOUR AUDACIOUS AUTHENTICITY AND SHINE
​
Walk to YOUR edge in how you show up and take up space.
Experiment with New Styles of Visibility and Marketing.
Practice consistent BRAVE ACTION that puts you at the center of your work -- and redefines your comfort zone.
YOU have a special sauce that is the magnet that draws people to you and the amazing work you do and you just need to keep telling the world about it all.
YOU have the ability to make a culture maker, a changemaker, a courage maker AND run a business with ease and integrity.
When you share your special sauce with those who need it, you cultivate demand for work only YOU can provide in your own special way. Letting that part of you SHINE is the work.
This takes courage.
And it will be uncomfortable.
And your business will thrive because of it.
And so will YOU.
Cultivating confidence and courage by experimenting with discomfort will not just carry you through your next business quarter -- but your entire lifetime because your dreams are just beginning, aren't they?
Get Experimenting!
XO
Shawn Fink (she/her)
P.S. Check out the beautiful page for The Brave YES Power Squad here. Scroll to the bottom for the list of bonuses you get if you sign up before this Friday. AND, feel free to hit reply to this email and ask to meet with me to see if The Brave YES Power Squad is a good fit for you and your business right now.
---
WHAT IS THE POWER SQUAD?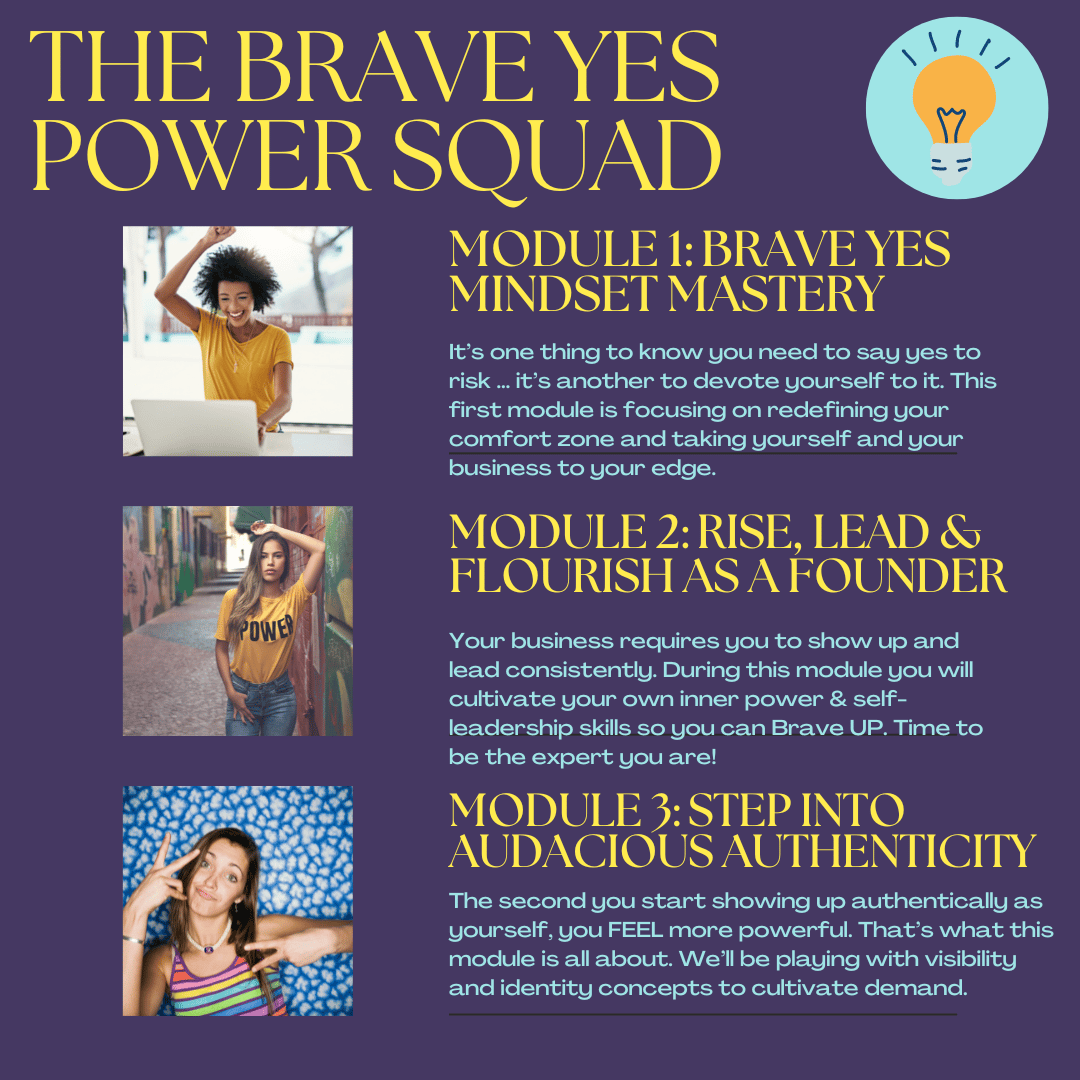 ---
Some bits about leaving the comfort zone:
​
Here's a few pieces I came across this week related to leaving the comfort zone. I so relate to the first one and I so agree with her take on needing to change this.
Leaning Into Uncomfortable Conversations: By Andrea Gibson: A list of things that have historically kept me from difficult conversations is long ... (read the whole list here.)

A fear of not being heard or understood.

An assumption that I would show up with a mind open to being changed for the better, but the other person wouldn't.

Anger about having to explain my perspective in the first place, particularly on issues of social justice.

A sadness that the conversation might end my relationship with the person altogether.

​How to Get Comfortable with Uncertainty and Change: Raise your hand if this is you: "To avoid the discomfort of uncertainty, some of us engage in what Fox calls "safety behaviors"—things like making lots of lists, constantly double checking, over-preparing, or seeking reassurance from others."
​The Pros and Cons of Comfort Zones! Both/AND! "To make the most of the comfort zones in your life, you must learn to balance time in and outside of them. For personal growth, it's necessary to take risks and endure some ego discomfort;3 however, it's also important to spend time healing and contemplating in the nurturing environs of your comfort zone."
---
Things that make you go, hmmm. 🦚
​
"The sooner you step away from your comfort zone you'll realize that it really wasn't all that comfortable." — Eddie Harris, Jr.