Thank you for reading The Brave YES Biz Playbook, a weekly newsletter by me, Shawn Fink, with musings on courage, unconventional business strategy and having the capacity to play bigger and live your most thriving life. I am SO glad you are here. You may want to allow for images to show up in this edition for a better reading experience.
​
---
🦚🦚 This is the final week to sign up for my brand new coaching experience, The Brave YES Power Squad!
This is a 12-week group coaching program for entrepreneurs and creators who want to release fear and self-doubt and start playing bigger to grow, uplevel or pivot your business.
Let's face it -- You know what to do, you need some accountability to do it.
Hope to see you take this leap of faith!
---
​
Sometimes ... you just need a pep talk and today feels like one of those times so I wrote this to bring some relief to those who are feeling anxious in the liminal space.
​
She had faith.
She had faith that no matter what went wrong something would go right.
She had faith that even when it all feels like it's falling apart, something, one tiny little thing, is also falling together.
She had faith.
She had faith that the things that feel hard won't always feel hard, and that gave her hope to breathe a little deeper, to walk a little lighter, to move a little more gently in this world.
She had faith that it would all work out not in some fairytale way but in the modern day kind of way -- messy and imperfect with a touch of WTF.
She had faith.
She had faith that faith, trust, surrender was all she needed.
She had faith that her hard work -- and, oh how hard she works -- would lead to more than enough, plenty enough, ample enough.
She had faith in herself, too, even though it feels wobbly at times, or most of the time.
She had faith that she could do the hard things -- and all the easy things, too.
She had faith that the next right move would appear and she would step on the escalator and ride the wave to the next decision, the next change, the next level.
She had faith, not necessarily the kind about a god in the sky but in the gifts from the universe, the divine timing kind of faith, the trust-fall kind of faith, the fall back and fall back and fall back and let it all unfold kind of faith.
She had faith and that's all she needs to open her eyes and leap.
WHAT'S THE LEAP YOU NEED TO TAKE THIS WEEK? WHAT'S THE LEAP YOU NEED TO STRONGLY CONSIDER TO TAKE YOU TO YOUR NEXT LEVEL?
**This piece was written was inspired by a conversation with a handful of great entrepreneurs struggling with scarcity and needing to trust right now.
XO
Shawn Fink (she/her)
P.S. Ready to leap? The Brave YES Power Squad begins on Monday, March 20. Feel free to hit reply to this email and ask to meet with me to discuss if The Brave YES Power Squad is a good fit for you and your business right now. I designed this group coaching program to help you have the confidence to do the BRAVE ACTION required of you to end this year strong.
---
WHAT IS THE POWER SQUAD?
​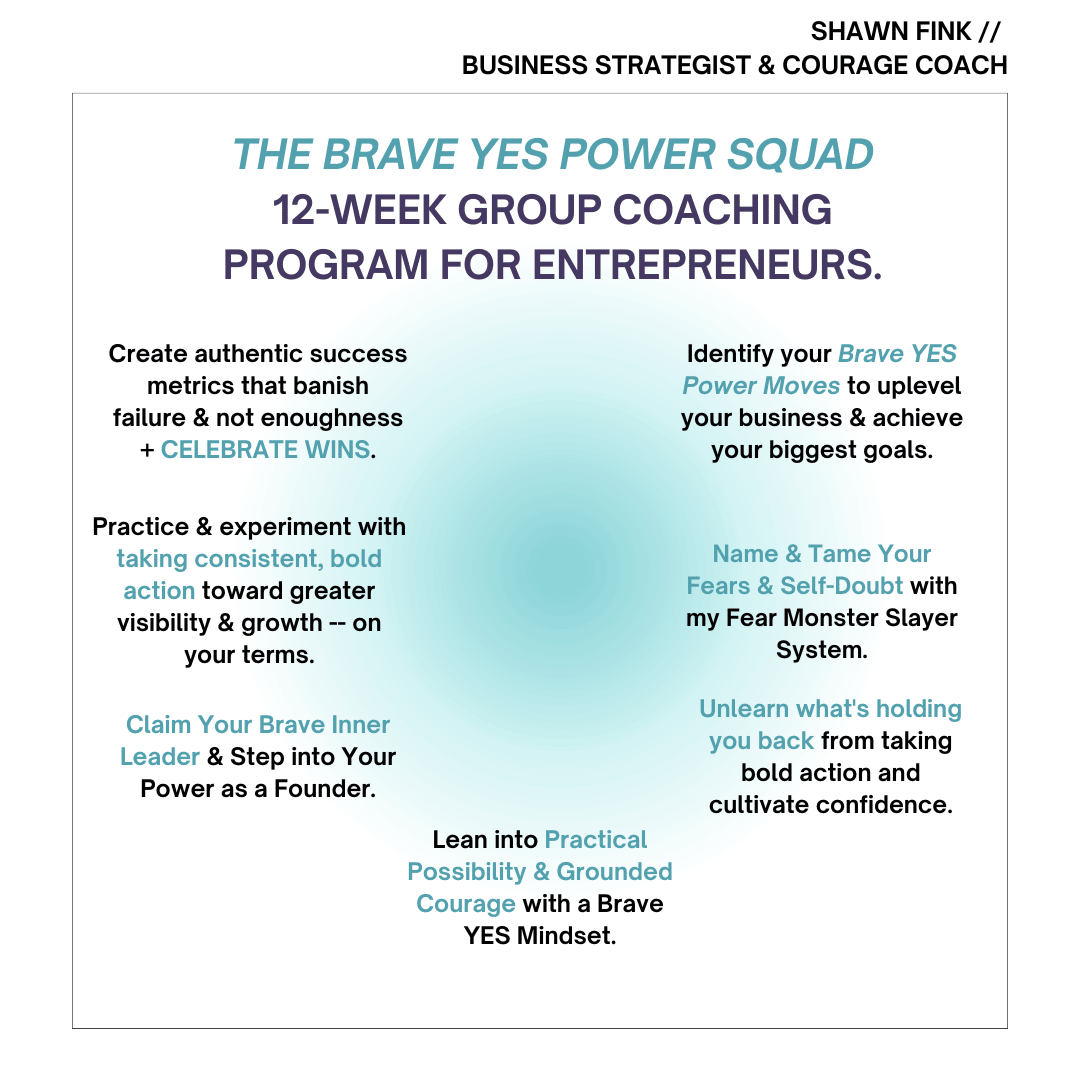 The Brave Yes Power Squad is not another boring program teaching you someone else's framework and strategies.
It's a soul-stirring, action-oriented, playful and powerful group coaching experience to help you uplevel your business in Q2 with the actions YOU need to take. You will laugh. You may cry. There will be breakthroughs AND celebrations. There will be gold stars for trying AND failing. You will learn to fail better. You will help each other RISE.
The Brave YES Power Squad is designed to offer you boundless support, audacious wisdom and Brave YES power-building tools to help you step into your next level of business acumen, visibility and revenue. Oh, and you won't want to miss our 30 Day Practices!
Are you going to be joining us? Register here.​
--> Will this coaching circle happen again this year? I can't say for sure just yet so please don't assume so.
---
Some learning 🥕carrots🥕 to help you manage stress this week -- and we all have stress to handle this week.
​
1. Are you the Lion or a Gazelle? How you experience and view stress determines how you manage stress. This great little story shares a metaphor that really breaks this concept down. You can see your stress as a POSSIBILITY -- or something to fear. Which do you choose? (Around here, in Brave YES Land, we choose possibility!)
2. Work on your relationship to stress! Because ---> "Anything worth doing will have aspects of stress woven through: challenge, discomfort, risk. We can't change that. But what we can change is our response," she says. (AMEN) 7 Ways to Have a Healthier Relationship with Stress​
3. REST before WORRY. A comic. (everything is always better after some sleep, isn't it?)
4. IS STRESS IMPACTING YOUR BUSINESS? Quite possibly. Check out these 10 Visibility Blockers that may be impacting your bottom line. ​
---
in case of an emergency ... 🦚
​
"Stress is an ignorant state. It believes that everything is an emergency." –Natalie Goldberg